Due to their robustness and longevity, wooden crates have been widely used in many different fields. These containers have repeatedly shown their dependability in a variety of settings, including the transport of expensive goods, the housing of large pieces of equipment, and the display of handmade goods. To that end, this article will dig into the world of wooden crates, discussing their durability, load capacity, and the different elements that contribute to their robustness.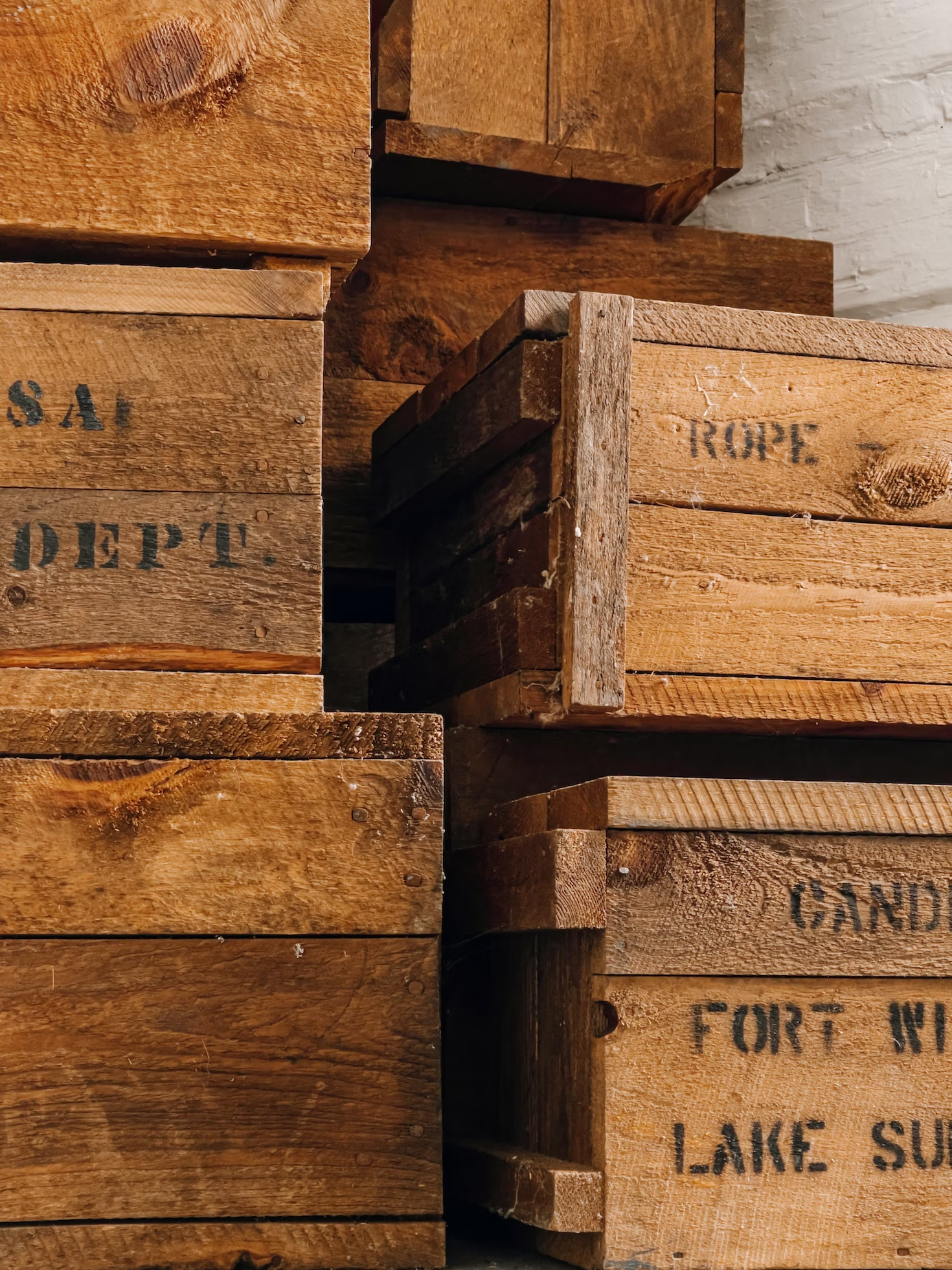 Whether you're a business owner looking for the greatest packing option or a do-it-yourselfer building your box, knowing how strong wooden crates are is crucial. Learn with us why these containers have stood the test of time and will continue to be used in the future of logistics.
How Strong Are Wooden Crates?
For many uses, including transporting heavy items, nothing beats the reliability and longevity of a wooden crate. Numerous elements, such as the wood species, the technique of construction, and the final usage, contribute to the durability of crates made of wood. Important aspects that influence the durability of wooden crates include:
Wood Type: The type of wood used plays a significant role in a crate's strength. Hardwood species like oak, maple, and birch are denser and more robust than softwoods such as pine or cedar. Therefore, crates made from hardwoods tend to be stronger and more resilient.
Construction Method: The way a wooden crate is constructed greatly influences its strength. Crates can be assembled using various methods, including nailed, screwed, or bolted joints. Dovetail joints and tongue-and-groove joints are examples of strong joinery techniques that enhance a crate's structural integrity.
Thickness of Wood: The thickness of the wooden planks used to build the crate is crucial. Thicker planks provide better support and resistance to external forces. Typically, crates designed for heavy-duty use feature thicker wood components.
Reinforcements: Some crates may include reinforcements such as corner braces or steel strapping to further enhance their strength. These additions help distribute loads more evenly and prevent the crate from collapsing or breaking under stress.
Load-Bearing Capacity: The load-bearing capacity of a wooden crate depends on its design and construction. Crates can be engineered to support specific weights and meet industry standards for safe transportation and storage of goods.
Moisture Resistance: The moisture content of the wood can affect its strength. Dry wood is generally stronger than wood with high moisture content, which can lead to warping or weakening over time.
Handling and Maintenance: Proper handling and maintenance also impact a wooden crate's longevity and strength. Avoiding rough handling and storing crates in a dry, controlled environment can help preserve their structural integrity.
Quality of Craftsmanship: The skill and attention to detail of the craftsmen who build the crate are crucial. Well-constructed crates with precise measurements and solid joinery will be stronger and more reliable.
Wooden crates' durability depends on several variables, including the type of wood used, the building process, and the presence of reinforcements. Because they may be tailored to match varying levels of strength, wooden crates can be used for anything from transporting large machinery to showcasing fragile artefacts. Consider these criteria when choosing or creating a wooden crate to ensure it will last as long as necessary in its intended application.
What Are The Properties Of Wooden Crates?
Wooden crates can be used for a wide variety of purposes because of their many desirable qualities. Some of these features are
Strength and Durability: Wooden crates are known for their strength and durability. They can withstand heavy loads and provide reliable protection for goods during transportation and storage.
Customizability: Wooden crates can be easily customized to suit specific needs. They can be designed in various sizes and shapes to accommodate a wide range of items, from machinery and equipment to fragile goods.
Environmental Sustainability: Wood is a renewable resource, and wooden crates are often considered environmentally friendly. They can be reused, recycled, or repurposed, reducing their impact on the environment.
Shock Absorption: Wood has natural shock-absorbing properties, which help protect fragile items from damage during transit. The flexibility of wood can absorb and distribute impact forces.
Insulation: Wooden crates provide natural insulation, helping to protect items from temperature fluctuations, humidity, and external elements.
Stackability: Wooden crates are designed to be stackable, allowing for efficient use of storage space. This property is particularly valuable in warehouses and storage facilities.
Versatility: Wooden crates are suitable for a wide range of industries and applications, from agriculture and manufacturing to retail and logistics.
Cost-Effectiveness: Wood is often a cost-effective material, making wooden crates an economical choice for packaging and shipping.
Custom Branding: Wooden crates can be branded and decorated, making them an attractive choice for retail displays and marketing purposes.
Repairability: In the event of damage, wooden crates can often be repaired more easily than crates made from other materials. Individual damaged components can be replaced or repaired, extending the crate's lifespan.
Biodegradability: Wooden crates are biodegradable and can decompose naturally over time, reducing their long-term environmental impact.
Safety: Wooden crates are generally considered safe for handling and transportation. They do not pose the same risks as some other materials, such as sharp metal edges or chemical hazards.
Ease of Handling: Wooden crates are typically easy to handle, thanks to built-in handles or handholds. This feature simplifies loading, unloading, and transportation.
Protection from Pests: Properly treated and maintained wooden crates can resist pests and insects, ensuring the safety and integrity of stored or shipped items.
Even if there are numerous advantages to using wooden crates, it is essential to choose the right type of wood, construction method, and treatment to guarantee that the crates will meet the requirements of the application for which they are meant. The lifespan of wooden boxes, as well as their practicality, can be significantly extended with the appropriate level of care and upkeep.
Conclusion
Crates made of wood are highly regarded for the extraordinary features they possess as well as the adaptability they offer. Because of their superior strength and durability, in addition to their adaptability, these crates are an outstanding option for a wide variety of businesses and uses. The fact that they are not harmful to the environment, that they have shock-absorbing properties, and that they can be stacked adds to the allure of these products.
Crates made of wood are not only an environmentally friendly and sustainable packaging and storage solution, but they also provide insulation, are cost-effective, and are simple to move and stack. Because they are both repairable and biodegradable, they are an environmentally conscious option that is suitable for both commercial and individual use.
To guarantee that wooden crates will fulfil the requirements of a certain necessity or standard, it is necessary to select the appropriate type of wood, method of construction, and treatments. It is essential to perform routine maintenance and care on them consistently to extend their lifespan and preserve their performance.
Wooden crates continue to demonstrate their value as a dependable and flexible packing and storage solution, whether they are being used for the shipment of expensive items, the presentation of products in a retail setting, or the storage of equipment in a secure environment.
Looking for Wooden Crates, Cases, Custom Pallets and On-site Packing Solutions? Just
Visit this page now!